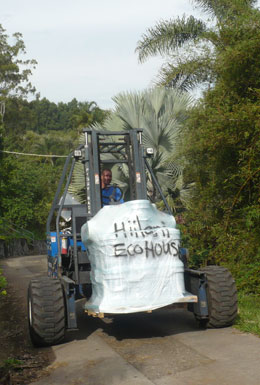 ABC Supply Co., Inc. is a nationwide provider of roofing, siding, windows and other exterior components, plus related tools and supplies. Each of its 350 locations in 45 states is a valuable resource center with experienced personnel, equipped to provide in-depth information about the latest and best roofing technologies. They can provide information and product samples to help with the important decisions regarding the type of roofing that will best suit each situation. They are committed to timely delivery, with expert backup services to help contractors succeed in creating durable, cost-effective roofs with sustainable green products and methods.
With its vast resources and its commitment to green construction, ABC is introducing a variety of sustainable roofing technologies. The company understands the significance of the roof's role, not only in protecting the building's occupants, but also in harvesting sustainable solar energy. They help consumers and contractors understand and make the best choices among the growing range of new roof-mounted solar collection systems, and all the connections and watertight protections required for long-term reliability.
The multi-purpose "butterfly" roofs of the Hi'ilani EcoHouse capture energy with a variety of solar arrays, while also collecting water, working with the trade winds to cool the building, and keeping everything cozy and dry inside! With its "plug and play" capability, the roof is designed to provide a proving ground where leading-edge companies can test their new solar inventions.
ABC Supply Co., Inc. has been a valued technology partner in creating a roof that can handle the wear and tear of all these demands for a lifetime of dependable service. Together with HydroStop, one of the companies represented by ABC, the company is supporting the project with logistics, knowledge and materials to make the roof a durable, fully watertight surface that is also NSF approved for capturing the home's drinking water.