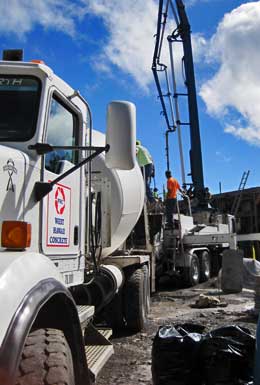 West Hawaii Concrete
Tweet
West Hawaii Concrete is a instrumental partner in the construction of the Hi'ilani EcoHouse.
As the first large scale SCIP structure in Hawaii, with large self-supporting roof spans, new concrete mixes were required. These mixes were formulated by Mike Krochina, of Krochina Engineering in Kailua-Kona. West Hawaii Concrete worked closely with the engineers to meet the requirements of the unique design.
The Hi'ilani EcoHouse is completely built with SCIP, including multiple cantilevered roofs. The thin concrete skins poured for the roofs required precisely timed concrete delivery. West Hawaii Concrete consistently met the challenges associated with this one-of-a-kind project.