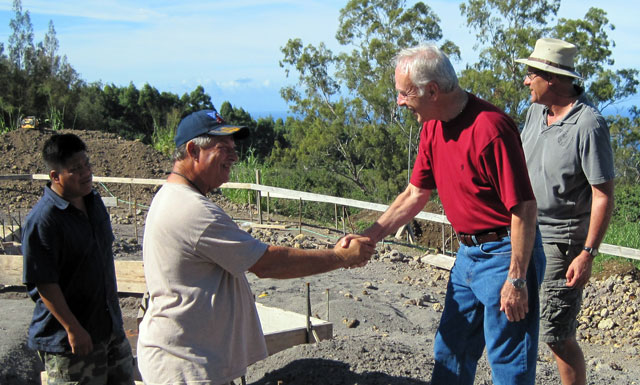 The Structural Engineering Team
Tweet
The integrated design elements of Hi'ilani's carbon neutral construction technology were developed by CN Tech of Rotterdam, the Netherlands. The resulting design required new and innovative engineering approaches.
Under the leadership of Studio RMA, these groundbreaking design elements were translated into sound structural engineering principles by engineer Ty Drake, Drake Enterprises, of Half Moon Bay, California, and by the local Hawaiian engineering firm of Krochina Engineering located in Kona on the Big Island.
Ongoing on-site testing was required as construction progressed, both for the concrete mixes which used special XP-48 concrete additives, and also for many of the expansive SCIP spans, which are used in the Hi'ilani design in new and unprecedented ways.
The onsite soil, grading, foundation and SCIP engineering reviews were conducted by Mike Hess of Krochina Engineering. Test samples of the new concrete mixes were prepared by Mark Izuno of West Hawaii Concrete, and by Rod Hadrian and James Flack of Hadrian TridiPanel Systems.