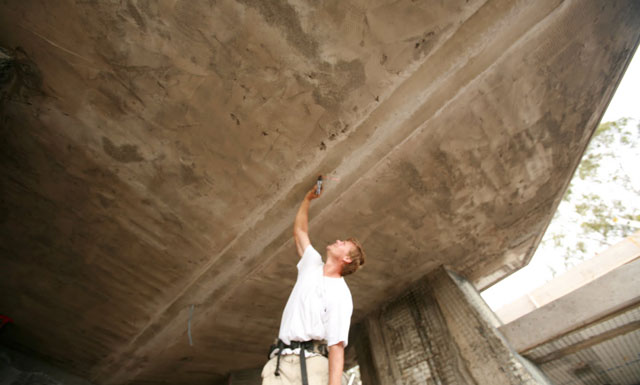 In a Tridipanel SCIP (structural concrete insulated panel) building, all the walls and roofs are made of EPS foam panels containing recycled material, with welded mesh on each side connected by a 3-D truss system welded through the center foam panel.
Panels are connected to each other with wire mesh, and connected to the foundation with rebar embedded in concrete. The application of a concrete skin to both sides of the panels brings great strength to the structure. Efficiency and durability are at the core of a green building.
While many wood framed structures in the USA end up in landfills, SCIP buildings offer a more durable option. SCIP buildings use predominantly recycled and recyclable materials for the key components. In addition, the Hi'ilani EcoHouse takes advantage of a newly developed additive that reduces concrete usage and prolongs the lifespan of the building.  SCIP structures are of no interest to termites, are virtually impervious to rot and decay, and are much more resistant to damage from hurricanes and earthquakes compared to wood frame construction.
With highly efficient insulation (R-40), durability, and exceptional strength, SCIP construction can create more economical, longer lasting structures that require less energy to operate.

The Hi'ilani EcoHouse is fully constructed with SCIP, without any structural wood or metal. The self supporting SCIP butterfly roofs hold all the energy systems, and collect water for household use and irrigation.